The senatorial elections
Two bills, introduced by the Senate and dated July 30 th 2003 have put up to date and modernised the status of the senators and the senatorial electoral process. This reform ensures a better representation of local bodies and their population. It was fully implemented for the 2011 elections.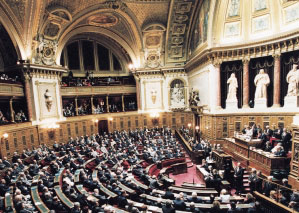 The number of senatorial seats has been adapted to the demographic evolution : 321 senators were elected until the reform. 331 between the 2004 elections and the 2008 elections, 343 after the elections of 2008 and 348 since the ones of 2011.

In 2011, 326 senators were elected in the départments (counties), both those in metropolitan France and overseas, 10 senators represent France 's other overseas territories and 12 senators represent French citizens living outside France .

The term of office has been reduced from 9 to 6 years.

From 2011, new elections will be held every three years to renew half the House (not a third as in the pre reform system). For that purpose, senators will be split into two series of local constituencies, roughly equal in number.
The age required to be elected has been brought down to 24 (instead of 30).
Who elects the Senators ?
The Senators are elected by indirect universal suffrage. This means that they are chosen by an electoral college in each département which is composed of :
Members of the National Assembly for the département and members of the département's General Council as well as the more extensively sited Regional Council.
Delegates from municipal councils who in fact account for 95 per cent of the members of the electoral colleges.
This means that the Senators are principally elected by municipal councillors. The number of delegates varies according to the population of the municipalities.
Between 1 and 15 delegates in municipalities of fewer than 9,000 inhabitants.
The entire municipal council (29 to 69 delegates) in municipalities with a population between 9,000 and 30,000 inhabitants.
In municipalities of more than 30,000 inhabitants extra delegates take part in the election of senators. For every 1,000 inhabitants beyond 30,000 one additional delegate participates.
How are Senators elected ?
By a first-past-the-post system with two rounds of voting in the 70 metropolitan and overseas départements which fill three senatorial seats at most. The same system applies in France 's other territories overseas.
By proportional representation in the 39 metropolitan and overseas départements which fill four or more senatorial seats.
The 12 senators who represent French citizens living abroad are elected under a system of proportional representation by the 150 elected members of the Assembly of French Citizens Resident Abroad.
About 52% cent of the Senate (180 of its membership) is elected under the system of proportional representation.
The 348 Senators by Profession ( in october 2011)
Education : 26 % (91)
Civil servants : 17 % (58)
Employees : 19 % (65)
Legal : 13 % (46)
Medical : 10 % (34)
Agriculture : 5 % (19)
Business, Industry : 7 % (25)
No stated profession : 2 % (7)
Others : 1 % (3)